Parties are 2 hours long and include a virety of Nerf games on the Nerf battlefield
Issued with tactical army gear including camouflage mask, goggles and with a choice of blaster from the Nerf Tent. Take up position on the outdoor battlefield behind barricades, sandbags, camo nets, tunnels and camps. The party is split into two or three teams, for various Nerf games including prison break, ambush, capture the barricade, last warrior standing and escaped prisoners.
All guests will receive a campfire cooked sausage on a stick, telling jokes and campfire stories with the REA staff. After a sausage roll a snack hamper is provided filled with crisps, chocolate snacks, cookies and apples. With a birthday cake and birthday wishes, the party concludes. Please provide your own birthday cupcakes.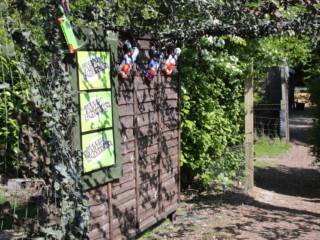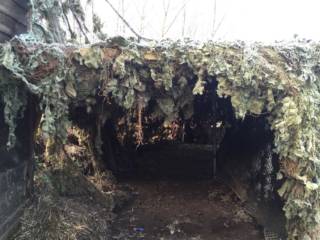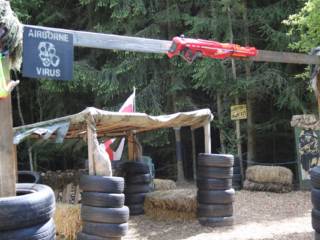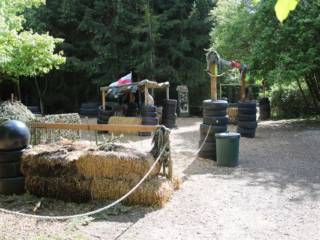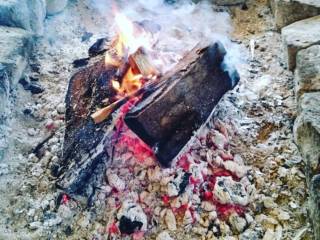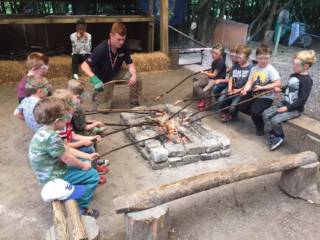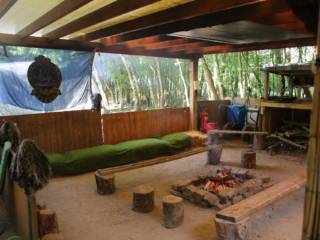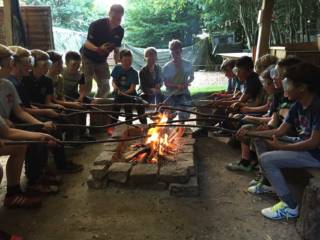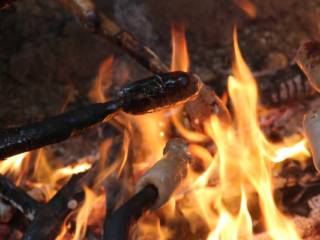 Booking Help
PLEASE NOTE – If the booking calendar does not allow you to use a credit/debit card ONCE you are on the PayPal screen, (our designated user for taking payments) then please press the 'cancel and return to R E Adventures'.
Once you are back to our website press next again and it should give you the option to use a credit/debit card on the PayPal website. If not, rinse and repeat. We are working on a fix for this!
iPads tend to struggle with our booking system too. Please use a different method where possible!
Book Your Party
You will be required to pay £50 non-refundable deposit to secure your place.
Numbers booked are an estimate and can change nearer the time.
Age & Group Size
For children turning 6 to 12 plus
Minimum of 10 to 20 maximum
Campfire is now prepared by REA Staff
Schools and group organisations welcome! Custom made packages upon request!
Booking a party
Numbers booked are an estimate. You will receive an email 7 days before the party asking you to confirm your final numbers and dietary requirements.
If the date is not highlighted then it is already fully booked.
Weekday Parties
If you want to book a party Mon-Fri and the date does not show on the above calendar then please call the office to discuss! 07460 333050
Sweet Cones/Party Gifts
We offer a large cone of camouflage sweets. These are priced at £3 each. We can cater for gluten free and vegetarian too.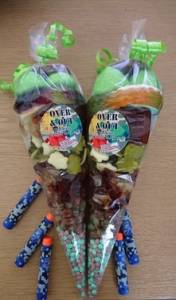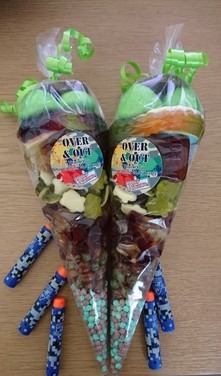 Drop Off/Pick Up
Upon arrival, please wait in the designated area, 2m apart, until you are greeted by REA Staff who will then welcome you into the Nerf zone and briefing area.
Upon pickup please wait in the designated area, 2m apart, until you are greeted by REA Staff who will guide you through to the pickup point.
Pricing Information (Campfire Meal Included)
Parent Information
Campfire Meal
Sadly, we will not be able to offer group cooking around the campfire.. However, the meal will be prepared by our kitchen team in the same way and will include; campfire sausages in a roll with ketchup or bbq sauce, crisps and an individual snack bowl containing 4 chocolate snacks. All dietary requirements, given notice, can be catered for. All food will be pre-prepped in a clean environment.
Clothing
Please dress for outdoor activities, with long trousers, trainers or walking shoes. Wellies are not ideal and crocs/sandals are not permitted. ​Any guest wearing these will not be able to partake! As appropriate please provide waterproof jacket, sweatshirt or fleece, sun hat, sun cream, spare clothing etc.
Weather
We are an outdoor company but have covered areas for some activities. Rain rarely stops play!
Guest Parents
You're welcome to stay and watch your children play. There is limited seating and covered areas.
Rugged Earth do not supply any refreshments for adults. There is a cafe located in the Garden Centre and you are more than welcome to bring your own refreshments. We can supply a table for you to set up some snacks.
Rugged Earth Adventures Staff
Main activity staff are DBS/CRB checked and are selected for their professionalism and enthusiasm. A paediatric first aider and a first aid kit are on site at all times. We use the Scout Movement handbook as a safety guideline.
Safety & Security
This is our first and last concern. The Camp takes place on fenced private land, children are supervised at all times. All staff are briefed on emergency and incident procedures and qualified first aid staff are on site at all times. Full instructions are given to all children before activities are undertaken. Activities take place over rough natural ground and although we take every precaution to ensure safe play, trips and bumps may occur. REA takes care to ensure all activities are in keeping with the environmental policies of the area. Rugged Earth Adventures holds full public liability insurance.
We are not responsible for children that do not adhere to staff briefing and instructions.
Frequently Asked Questions
I've left some lost property!
REA keeps everything that is left behind for 4 weeks. Please call the office if you have left something behind.
Any items brought to REA are done so at the owners risk.
Do you do anything for schools?
REA is happy to host a day for a school trip to come and play Nerf games, partake in bushcraft activities and a cook a campfire lunch. Please contact the office for more details.
Do you do adult parties?
We can host adult parties. Please contact the office for more details.
Can I join in?
Adults can partake in a few games on the battlefield if they would like to, it's not a requirement but we can play a game involving parents. One of the best opportunities to get some payback!
Does an adult have to stay during the party?
​We are happy for you to leave the kids with us and go to the cafe etc but one adult has to remain within the vicinity of the garden center. If you do stay we provide limited undercover seating.
Can I bring a cake / balloons / extra snacks?
Please bring a cake which you will bring out at the end of the campfire cooking. REA staff will gather the children together to sing, you bring the cake out, and then we open the snack hamper to give you a chance to cut up the cake. We discourage balloons and decorations as we are an outdoor company and they may fly away! Extra snacks can be brought for the children or parents, a table can be supplied for you.
What do I bring?
As host you need to bring the emergency contact form, ​found here, and a birthday cake, everything else is provided.